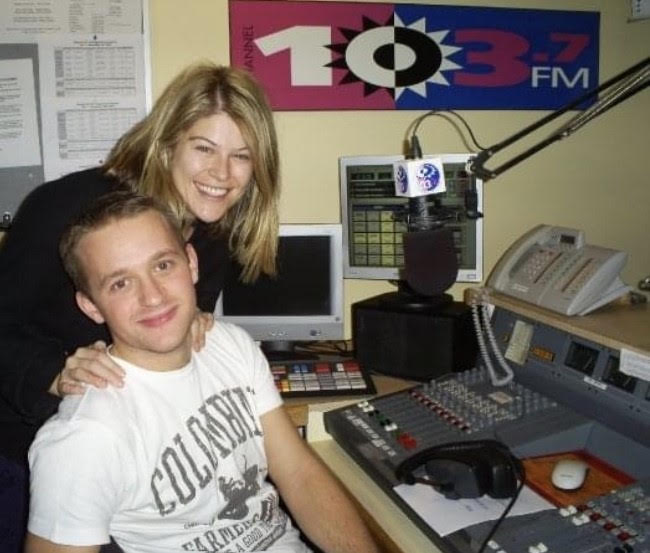 I joined Torbay Hospital Radio when I was 15.  I'd become interested in radio generally in my teens, inspired by the likes of Steve Wright, Terry Wogan and Sarah Kennedy.
Having seen that many broadcasters started their careers in hospital radio, I was keen to get involved and was given a warm welcome by Ron Reynolds, Tricia Keys and others when I did.  There was a real mix of people working at the station and I very much enjoyed my first 'job' on the Sunday evening request show.  I loved collecting the requests from around the wards, speaking with the patients and then dashing back to the studio to dig out the records before we went to air at 8pm.  It was all a lot of fun.  As of course it was voluntary, the number of co-presenters would vary considerably.  Sometimes it was just a couple of us and at other times I'm sure there were as many as 10, crammed into a very hot studio, taking it in turns to read out the listener requests!
After cutting my teeth doing this, I was quickly given my own Sunday early evening show and as I love 60's & 70's music, specialised in just that.  We were able to play some tracks off the computer, but a lot was still on vinyl and CD, so you had to be organised with no producer!
After 4 or 5 years at THR, I left Torquay and pursued my main career, which took me to many different places.  It didn't take very long though before I secured a freelance broadcast journalist role at Channel 103.7FM in Jersey.  I would compile and read the news and sport on the weekday breakfast show and before long I was also presenting my own live music shows, before securing a permanent slot on Saturday Breakfast from 2007 to 2013, before I returned to the UK.  Working for an excellent commercial radio station was brilliant.  I loved every minute and had very loyal listeners.  Leaving the show after so many years was difficult to do, though I knew I wanted to return to the UK.  Juggling the music, competitions, listener texts and emails on a live show with thousands listening gave me a real buzz.
Having moved back, I wasn't done with radio and still wanted to work in addition to my main career.  In 2014 I joined Radio Exe in Exeter and presented the Saturday breakfast news and sports bulletins for a year or so, before eventually moving to London, where I still am and hope to undertake some more presenting work in the near future.
Torbay Hospital Radio gave me a wonderful opportunity to develop my passion for broadcasting.  I met so many interesting, friendly and fun people during my years there, nearly all of whom are still great friends.  No doubt, without my voluntary work at the station, I would not have secured my first paid radio work, so I'm forever in debt to THR!
Finally, I'm delighted the studios have undergone some work.  Long may the station live.  The commercial radio sector has undergone a huge amount of change in the last 20 years, though it's wonderful to think Torbay Hospital Radio is still there and as important to the patients as ever.