Every Spring and Autumn Freemasons from all around Devon meet to support local organisations that require financial assistance, among which are children's charities, schools, youth centres, and locally based charities including hospices, hospital services, and cancer charities.
Wake Fund
The money is raised through the "WAKE FUND", a trust conceived by William Alexander Kneel, the Devonshire Provincial Grand Master from 1970 to 1984, the late owner of Kneels laundry & dry cleaners (now Johnsons). Since the idea was initiated, the fund has grown through the continued generosity of Devonshire Freemasons and wise investments. Today it stands at £2.3 million from which the trustees distribute the income generated, currently around £50,000 each year.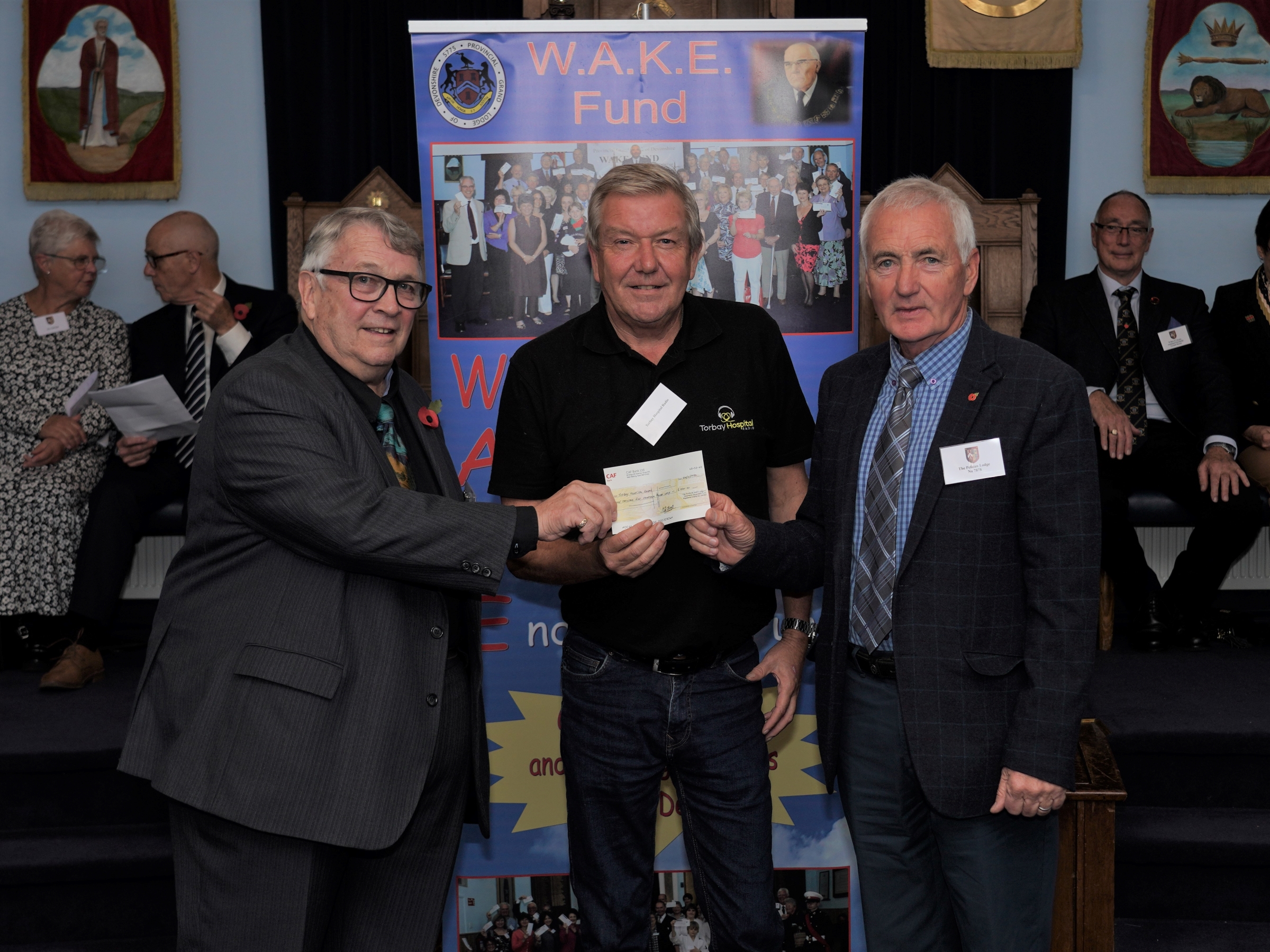 Provincial Grand Master of Devonshire, Ian Kingsbury JP: "We are so lucky that Devon has this legacy to share with small groups and charities who are put forward by their local Lodges. We've had larger Devon-based Charities getting quite significant donations from the National Masonic Charitable Foundation. But this is us using local funds to help many smaller local groups and charities".
Reuben Ayres, Devonshire's Charity Steward: "Since the first disbursement in 2001 nearly £900,000 has been given to over 960 worthy non-masonic organisations and charities throughout Devon, selected by members of the 128 Masonic lodges based throughout the county."
This Autumn on Friday 4th November at Mount Edgcumbe Masonic Hall, Citadel Road, Plymouth PL1 2NG, Ian Kingsbury the Provincial Grand Master of the Devonshire Freemasons presented cheques to twenty-one deserving causes.
How the Wake Fund has supported Torbay Hospital Radio
The Devon Freemasons have donated a very generous £1500 to Torbay Hospital Radio. This fund will go towards equipment for the studio.
Torbay Hospital Radio's Vice Chairman, Geoff Webb, went to collect the cheque at the Devon Freemasons' event celebrating all the charities they have supported with the Wake Fund.