Some dedicated members of Torbay Hospital Radio have been working hard throughout this strange year to help revamp and modernise our studios.  
We've almost finished Studio 1, our main studio for hosting our live shows. But many of you might not know that we also have another smaller studio. We're planning to use Studio 2 to record radio plays, jingles, special recordings and to train our new volunteers. This is so they don't have to go onto the live desk in Studio 1 straight away, putting them more at ease.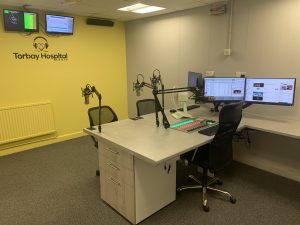 We need your help
However, we want to ensure that we use the same desk as Studio 1 to make training even easier. But it's not cheap. Roughly £7,500.  
We are a small charity and rely solely on the kind community donations we receive and the grants that we apply for. But grants can take a while to be approved. Usually, we raise much of our funds from hosting outside broadcasts, hiring out our sound system services (music and PA) to local (mainly outdoor) events. However, Coronavirus has, of course, meant that we have been unable to run these this year. 
We want your help. Whether it's a £1 or an amount with a few more zeros, any contribution to support us would be greatly appreciated. Head to our donate or our fundraising page to find out more.