In-depth chats and interviews with the Torbay Hospital Radio Podcast
Do you fancy a change and wish to listen to engaging conversations and chats, rather than toe-tapping along to the music we play? Then check out our podcast.
It's led by dedicated volunteer and Country Connections and Tuesday Night Tunes host, Paul Harding.
The podcast includes interviews and chats with other volunteers and people from the community on a range of different topics.
We have two great new episodes that you can listen to at your pleasure…
Interview with Jim Parker Editor Torbay Weekly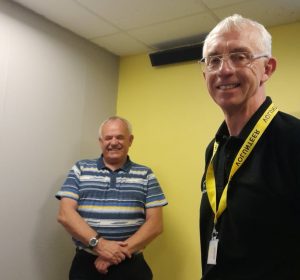 Jim Parker is the former editor of the Herald Express in Torbay. He is an advocate for Torbay and all it stands for. Plus, he is a keen sportsman and now the editor of Torbay Weekly.
Local news is at the heart of what Torbay Weekly do. They provide news about people, business, sport and the events that make Torbay such a vibrant place to live and work.
Listen to the episode to hear about Jim's new venture and the state of Torbay.
Interview with Mark Faulkner
In this episode, Paul talks to Mark Faulkner, manager of the Karing Voluntary Group. They chat about charity, cricket and cancer.
KARING is a registered charity operating in the Preston district of Paignton, Devon. They provide transport, social activities, support and information to people who are older, frail or sick residents and visitors of Paignton and surrounding areas. They
are connected to Pembroke House Surgery. However, all of their services are open to anyone who makes contact with them.
How to listen and contact us
Listen to the Torbay Hospital Radio Podcast via Spotify and other popular podcast apps.
If you would like to be considered for an interview, please contact us.